The Wisconsin Weather Stories Workshop
August 12th & 13th, 2003, UW Madison
Five energetic and enthusiastic Wisconsin teachers met in Madison to learn more about the project and brainstorm on how best to collect weather stories with their students during the school year. These teachers are: Russ Bailey, who traveled from Northwestern Middle School in Poplar, Teyulelu Cornelius from the Oneida Nation School in Oneida, Mary Kornely from Denmark Elementary in Denmark, Karyl Rosenberg from Nicolet High School in Glendale, and alternate Mary Jo Fuhry from the Indian Community School in Milwaukee.
The workshop included lectures on project philosophy, local culture, narrative and a presentation by elementary school teacher and folklorist Mark Wagler from Randall School in Madison. There were instructive sessions illustrating how to conduct interviews, do fieldwork and access weather resources. CIMSS webmaster Leanne Avila unveiled the web page she designed and led a discussion on content and accessibility. The teachers also evaluated the Armistice Day lesson that had been prepared prior to the workshop and discussed possibilities for future lesson plans.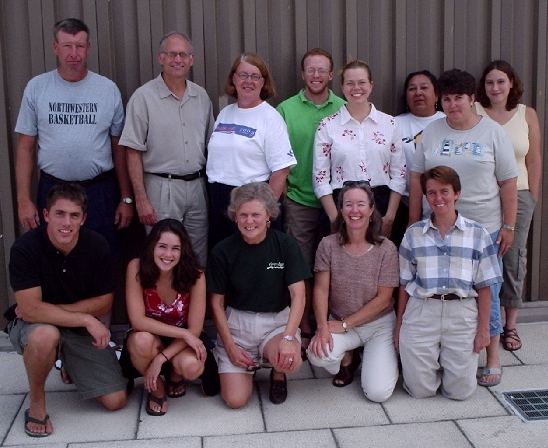 Also in attendance were the folklore and atmospheric science college students working on the project. These are Claire Schmidt, Jamie Yuenger, and Louie Holwerk from the UW Folklore program and Holly DeRose and Kristopher Karnauskas from the UW Atmospheric and Oceanic Science program.
The key personnel in this project are: Dr. Steven A. Ackerman, Director of CIMSS and Professor of Atmospheric and Oceanic Sciences; Dr. James P. Leary, Director of the Folklore Program, Co-Director of the Center for the Study of Upper Midwestern Cultures, and Professor of Scandinavian Studies; and Dr. Anne Pryor, Folk Arts Education Specialist at the Wisconsin Arts Board. CIMSS webmaster Leanne Avila created and maintains the web site. The administrative project director is Margaret Mooney, former NWS meteorologist and current Outreach Specialist with the UW Space Science and Engineering Center.